Lessons
Students enjoy private violin lessons weekly at LaDonna's studio in Vestavia Hills.   Fundamentals of technique, tone, and  expression are explored.  As group lessons are an essential part of the Suzuki Method,  all students practice together twice a month at The Dance Foundation, centrally located in Homewood.   Group Lessons offer an opportunity for ensemble and musical growth in a social setting.  Beginning students are motivated by observation and contact with others.  Advancing students hone skills in repertoire, technique, and performance. They enjoy LaDonna's relaxed and "out of the box" teaching style, and the group classes create lifelong friendships.
Spring Concert
As a performance ensemble, the Birmingham Suzuki Violinists charm their audiences, young and old, with virtuosity, poise, and showmanship!   Concerts and recitals are held throughout the year. Our featured concert each year is the annual  Birmingham Suzuki Violinists "Spring Concert," performed in beautiful venues which include Virginia Samford Theater, Hoover Library, and the Alabama School of Fine Arts.  There is always a highly entertaining and diverse program. From classical repertoire and amazing young soloists to a mix of folk traditions such as Celtic fiddle and other world musics, we are always surprising audiences with our diverse repertoire, a real crowd pleaser!

Events & Performances
It is possible that you may have had the opportunity to catch the Birmingham Suzuki Violinists in performance out in the community. We have performed at the McWain Center for Dr. Suzuki's 100th Birthday! We showcased our American fiddle repertoire at the  Moss Rock Festival and Magic City Art Connection.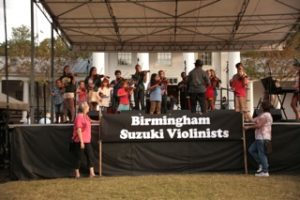 We have performed at  Alabama Shakespeare Festival, and many other invitations and "pop up festivals" and  that rotate into our schedule.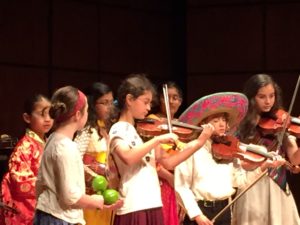 Recently,  we featured an unusual world music set that included music from China, India, Mexico, Argentina, and Japan. In addition, the violinists performed for the students at Deer Valley Elementary School as part of the Birmingham International Festival.  We were invited to perform our "Mexican show" for the Dia de los Muertos.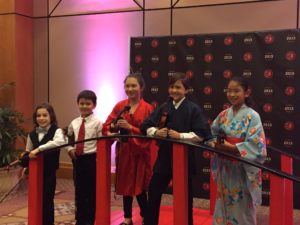 We were especially honored to entertain the Southeastern US-Japan Economic Conference.  We presented a program for the Ambassador from Japan, Alabama Governor Robert Bentley, Mayor William Bell, and many corporate Who's Who's, who clearly enjoyed our Japanese folk repertoire.  We participate in the annual GBMEA Festival held at the Alys Stephens Center, which showcases all the string and orchestra students in Birmingham.
To view upcoming events, check out our blog!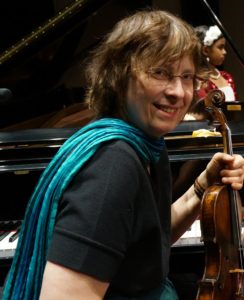 LaDonna Smith, Director is a highly experienced teacher and artist. She holds an Master of Music degree from the University of Alabama and travels widely as a performer & teacher. featured on many LP & CD recordings, and has conducted Suzuki workshops, and seminars on improvisation, throughout the United States, Canada, and Europe. She is is a registered teacher of the Suzuki Association of the Americas (SAA).  For 10 years, she was on the faculty of  the Central Pennsylvania Suzuki Institute, and has been guest resident artist and clinician at Philadelphia Suzuki Workshop, James Hutchins Studio in Bethesda, Maryland, at Michigan State University, and at Brigham Young University.  She was recognized "Teacher of the Year" by the Alabama Chapter of the American String Teachers Association in 2008. She has twice presented at the American String Teacher's Association (ASTA) Conference.  By invitation, she joined the ASTA "People to People" trip to China to observe the Chinese music education practice.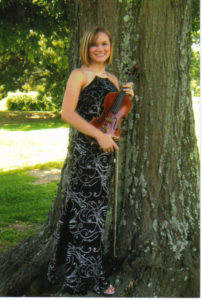 The Birmingham Suzuki Violinists  have had the honor to participate in the 42nd National Suzuki Concert held at the Royal Budokan Hall in Tokyo along with 3,000 other Japanese students!  LaDonna and 24 of her students and 14 adults went to Japan and performed in the cities of Nagano, Matsumoto, and at a specially organized string festival in Hitachi, Birmingham's Sister City! The story of our trip is well documented in the SAA Journal, Vol. 26, No. 4.   It was an experience of a lifetime!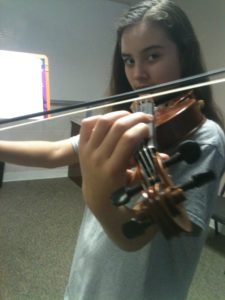 Over the years Ms. Smith has sponsored numerous student and teacher workshops in Birmingham, inviting celebrated SAA Teacher Trainers  &  Artists, such as Ronda Cole, Nicolas Kendall, Timothy (Terry) Durbin, Ed Sprunger, Mark Smith, Martha Shackford, Carol Dallinger, Pam DeWall,  and others.
LaDonna is also a certified teacher of Mark O'Connor Violin Method. Her articles have been published in American Suzuki Journal,  Ability Development-Journal of the British Suzuki Institute, and reprinted in Japan in the International Suzuki Association Journal.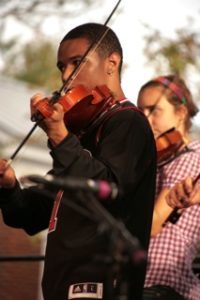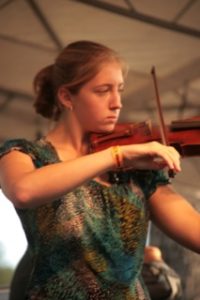 Each year new opportunities present themselves for the Birmingham Suzuki Violinists.  New students come into to the studio for lessons, and the older students mentor the younger ones at group practice.  If you are interested in learning to play the violin, we invite you to become a part of our Suzuki family!
Thanks to former student Ashlin Duncan for creating and administrating this website! You can view his own site
here
.