Since we had been sharing music in all the  "Friendship Concerts" of our 1998 Japan Tour, we felt it was appropriate to present a collaborative concert in Birmingham, with the awesome Birmingham Youth Jazz Ensemble just across town!  So, we met together at Sixteenth Street Baptist Church in March of '99 for a collaborative "Neighborhood Friendship Concert!"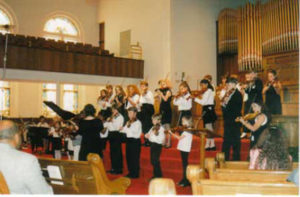 First, the Birmingham Suzuki Violinists performed a collection of Baroque duets. After that, Director Jothan Callins led the Birmingham Youth Jazz Ensemble in some swinging big band jazz!
The two musical styles couldn't have been more different, but everyone appreciated the contrast and the opportunity to meet and share musical experiences together. The highlight of the day was combining the two groups in a Sun Ra free jazz composition. We experimented with some improvisation, and of course the BYJE had some excellent horn players, e-guitar, bass and drums!  It  was far out, and it swung!